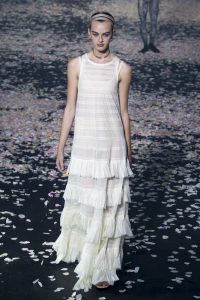 For those looking toward the next season of design wear, the biggest brands and influencers in the business are putting in place the third phase of seasonal catwalks and speaking with Milan to showcase their line for autumn and winter. Everything from sensible shorts to oversized hats and tight pleats have been dominating the runway during the spring and summer — but the next round will bring something different.
This autumn, we'll see flashy florals and classy cheques as well as sparkles that blind and endless rufles. The coming season is set to be a sassy array of designer changes. Here, Dorset glovemakers, Chester Jefferies, put together all you need know to stay on trend.
1. Flashy Florals
Some may wonder if florals have ever been off trend, but they really never are. Even so, the coming season is going to have florals that are flashier than ever. These will include face masks as completely viable options. Some of the high-end labels will use muted base colors while others will be bright and decorative and splashed all over.
2. Big Bags
Recent trends have been small bags that required the user to take only the essentials. The smallest totes along with your phone would be about all that you could carry in such a small bag. The coming season is going to see big bags return. Some of the trendiest brands have scheduled a revisit to practicality.
3. Stripes Give Way to Cheques
The previous season had prints that clashed such as stripes and polka dots but the coming season will be different. Instead of clashing prints, there will be a single print and colourful cheques seem to be what's coming.
4. Ruffles Galore
In the coming season, a single ruffle will not be enough. Fashion is taking its cues from the 1920s lamp shade and applying it to formal evening wear. To get the best impact, you might need to keep your hair pulled back.
5. Waist Belts
This type of belt is considered time-tested but in recent designs, it didn't show up on the radar in high fashion because the designs were going for an undefined silhouette. The coming season will change all that. We will once again be putting on our belts around everything — knits, coats and almost everything else.
6. Leather Coats
Anyone who's been watching fashion this season will have noticed more tonal hues on outfits that are made for street style. A similar shade will be applied to the end-of-the-year fashions. The difference is they will be upgraded to include leather and midi coats.
7. Pointed Toes
Although you may not be a ballerina you may be looking at wearing pointed toes. The coming season will see an emphasis on footwear with sharp pointed toes.
8. OTT Feathering
For those who don't care much for sequins, this will bring some playful textures in the form of heavy feathering. This will mean letting go of the notion of creating a sleek silhouette and rather embracing the bulk. To get an impactful moment you can pair together a chic slip and a feathered coat. Another option is to go all out with a feather dress for a long night of intrigue.
9. Argyle Knits
This is something that was once worn by middle-aged golfers. It is now coming into the latest lines of the fashion world. It'll be used in cardigans and jumpers and can be paired together with a chic skirt for a cozy day at the office.
10. Corduroy
Corduory has been slowly working its way back into fashion over the last several months. In the next 6 months, it is expected to reach the masses. For a casual look, loose-fitting versions will work well. For nighttime wear, you might choose a nipped waist jacket along with a high waisted pair of trousers.