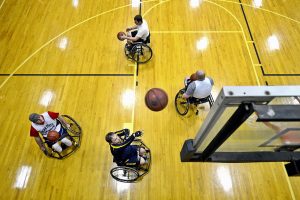 According to new research by Activity Alliance, attitudes by non-disabled people regarding inclusive activity with people with disabilities have improved in recent years. However, while these results indicate signs of improvement, the perceptions have ingrained barriers regarding the alteration of a disabled person's lifestyle, inclusion and engagement in sport. Care agencies in Wokingham understands the importance of inclusive activities.
#1: Engaging in Activities with Disabled People
An online survey of the perceptions of people without disabilities was conducted using over 2,000 non-disabled adults. The survey focused on the issue of inclusive activities where people with and without disabilities take part, and it measured the respondents' experiences and perceptions. The findings indicated a diverse result showing that people without disabilities could be prevented from engaging in these activities with disabled individuals based on their perceptions.
#2: Chances to Change Perceptions Using Sport
Research indicating a positive opportunity to alter perceptions using sporting activity was made available by Activity Alliance. Approximately three quarters of respondents without disabilities were willing to take part in an active recreation with a disabled individual. The individual without a disability recognised the positive impact taking part in this inclusive activity would have on them. The top benefits included learning more about disabilities, meeting new groups of people, and feeling more comfortable around people with disabilities.
Approximately one quarter of the respondents without disabilities associated disabled individuals with being equal to non-disabled. This is considered a perception driven by the discrimination of disabled people in modern society. The respondents believe people experiencing behavioural conditions, mental health issues, physical impairments, and learning dificulties to be in groups facing prejudice in the United Kingdom.
It was found that while these groups face prejudice, respondents without disabilities did not show any concern for the negative impact taking part in the activities had on the wellbeing of disabled individuals. The survey showed that the non-disabled respondents were concerned that people with disabilities would be physically hurt, patronised or be subject to an inappropriate statement.
The inconsistencies in language used by the providers to promote the activities were highly evident amidst respondents. Approximately two thirds of people without disabilities did not know the definition of the term "inclusive sport" before the task. Moreover, three quarters of the respondents showed an awareness that inclusive sport was for all people and not disabled individuals only.
#3: Unknown Experiences with People with Disabilities
Inexperience, unfamiliarity, and a general lack of awareness of people with disabilities were evident in research results. People with disabilities are a large portion of society's population with a statistic of one in five individuals. However, only one in seven people without a disability are fully aware of taking part in a physical activity with disabled individuals. In addition, only half of the respondents to this survey knew a person with a disability.
The report has been added to the research portfolio for Activity Alliance, providing insight into the awareness of disabilities in society, as well as the barriers and perceptions of people with disabilities being active.
#4: The Gap between Reality and Ambition
According to the findings in the Lifestyle Report, a defined mismatch was found between disabled people's preference for an active lifestyle and the availability of this opportunity. In the survey, approximately six in every ten people with a disability stated a preference for activities and sports; however, only five in ten people were involved in these activities.
People with disabilities stated a desire for mixed-setting activities (disabled and non-disabled people) in the Motivate Me survey as well. The research indicated people with disabilities are more likely to approach opportunities to become active when the activity is most suited to their preferences and interests. This includes maintaining physical and mental health, progressing in life, becoming more independent and building friendships.
According to the chief executive of Activity Alliance, Barry Horne, increasing the numbers of active people with disabilities improves the meaningfulness of the opportunities. It also increases a response to a demand for activities. Studies have shown that people with disabilities want to become active with non-disabled family and friends, such as in the programme Get Out Get Active. To improve participation, it is advised that the activity is better marketed and the messages are more widely spread.