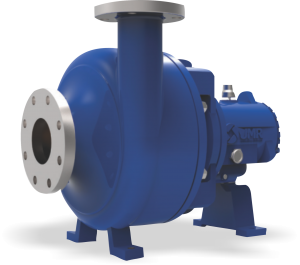 A centrifugal pump is a machine for moving fluid. It does this by using one or more driven rotors, called impellers, to transfer rotational energy to the fluid. Fluid is introduced to the rotating impeller along its axis; centrifugal force carries the fluid along the vanes of the impeller out to its circumference. In addition to moving fluid toward the pump outlet, a centrifugal pump also increases its velocity and pressure. The casing of the pump is specifically designed to control the motion of the fluid, constricting it when it is introduced, directing it into the impeller, and slowing it down before it's discharged. For further guidance, you might want to enlist the expertise of a protein purification company.
Centrifugal Pump Operation
The centrifugal pump's main component is the impeller. Impellers are built up from a series of curved vanes. In the majority of centrifugal pumps, impeller vanes are contained between two solid discs. This is called an enclosed impeller. Some pumps have open or semi-open impellers; these are suited to pumping fluids with entrained solids.
Centrifugal pump casings are classified as either volute or diffuser. Each design is intended to control pressurised pump discharge in a specific way.
Centrifugal Volute Casing
In a diffuser design, the pressure of the fluid being pumped is increased as it is forced through stationary vanes surrounding the impeller. A diffuser pump can be designed for a specific use condition, leading to high efficiency. Volute cases do not increase fluid constriction by adding additional vanes. This makes them more appropriate for high-viscosity fluids or fluids with entrained solids. Volute pump designs are typically asymmetrical, which can lead to increased wear on the pump's driveshaft and impellers.
Centrifugal Diffuser Casing
What Features Typify a Centrifugal Pump?
The design of centrifugal pumps set them apart from ordinary positive displacement pumps. Centrifugal pumps perform better than alternative designs at high flows and when pumping low-viscosity (down to 0.1 cP) liquids. A chemical plant may well use centrifugal pumps for up to 90 per cent of its pumping applications. There are specific cases where positive displacement pumps perform better, though.
What Limits Centrifugal Pump Performance?
To operate efficiently, a centrifugal pump has to keep its impeller moving at a high, constant speed. Pump efficiency drops off sharply when the liquid being pumped has a high viscosity. Such fluids increase resistance and require higher pressure to meet flow rate targets. This is why centrifugal pumps are best employed with liquids whose viscosity falls between 01. and 200 cP. Applications calling for high capacity and low pressure suit the capabilities of centrifugal pumps.
Using a centrifugal pump on high-viscosity liquids (e.g. oil) or slurries (e.g. mud) can lead to damage and premature pump failure due to wear and overheating. Positive displacement pumps, which operate at much lower speeds, handle these applications better.
Liquids with shear sensitivity (such as biological liquids or emulsions) may suffer damage due to the high speed of the impellers in centrifugal pumps. Delicate liquids should, therefore, be moved with a positive displacement pump.