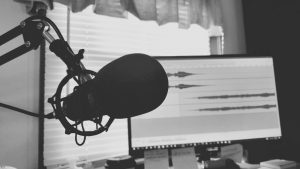 If you want people to notice your podcasts, then you will need to have a clear niche and a strong 'voice'. You should have an idea of what message you want to send, and it should be obvious that you have done your research.
Most people like to dip in and out of podcasts, but if what they are listening to is actually useful, and they can trust you, then they will be more likely to keep listening.
It also helps if you have good production values. Clear sound helps to retain listeners. Investing in some semi-professional kit will help you to provide a truly high-quality production that people will want to listen to.
Getting Advertising
You may be wondering if marketers care about podcasts, and are interested in doing product placement or sponsorship. They are, and there is no question that this is an area that is untapped, and that consumers are accepting of.
There are some good opportunities for companies to get involved with podcasters who have a good following and who are highly trusted. This can be an effective way of getting a brand's message out there since it is so much easier to send a clear message through the spoken word than it is in print. A good podcast tells a strong story and is an incredibly good option for building engagement and for building a relationship with listeners. You could also use a digital animation company to produce a short animated video which advertises your podcast in a more visual way.
Podcasting as a Business
If you run a B2C business and you want to build up that level of awareness and engagement, then you have a number of options, and running a podcast is one of them. Of course, if you are going to put the time into running a podcast then you will want to make sure that it is financially worthwhile. Embedding content into the podcast can be a good way to turn listeners into spenders.
Let's take, for example, a medical podcast that has an expert speaker, and gets sponsorship by a related brand. If the quality of content is good, and the linked products are worthwhile, conversions should be strong.
Podcasts are quite easy to monitor, too. It is usually easy to sot how many people are downloading them, and if people stream them you can tell how many people listened to the podcast all the way through as well. That means you can calculate your reach quite accurately, and tie that into conversion rates as well.
Integrating Podcasts With Other Campaigns
You can use podcasts with social media campaigns, product launches, etc, and build up a following that way. Podcasts are easy to integrate into your other campaigns and can be quite impactful.
People like to share quality content, and sharing a link to a podcast is low friction. It is easy to just drop a link into a message to a friend, and from there the marketing messages in it will spread along with the content. Podcasts can be 'multi-media', and the impact of them, with scan codes or external links, can be massive.
Podcasts are often thought of as being one-way, but they can actually offer opportunities for two-way engagement as well. If the creators of the podcast are happy to have guest speakers, to read out comments or even take incoming callers, then there is a lot of opportunity for true engagement. Doing the occasional live podcast, if you're up to the challenge, is a good way of reaching as many people as possible. Two-way engagement can be one of the best things for really improving public perception of your brand and making people want to talk about it and tell their friends and family about the things that they heard.
Podcasting is easier than you think to get started with, and if you aren't doing it already, you probably should be. Why not start building it into your marketing plans for the next year? You may be surprised at how effective it can be.