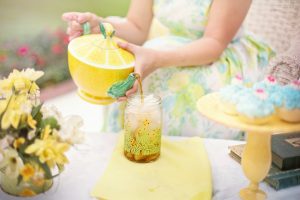 You would think by my age I would have already mastered hosting a party. I'm not the type of person who can just throw together a fabulous party without shedding a few tears and having a couple of meltdowns along the way. And I'm totally relieved when the entire thing is over.
As someone who is always looking for a solution, I asked Vanessa, from Rocks and Frocks in Cambridgeshire, to share her top tips with me for throwing a fantastic party. Would you like to know what her secrets are? If so, keep reading!
Party Secrets from Rocks and Frocks
1. Be realistic and plan your budget ahead of time
You can plan a party on practically any budget but just make sure you are honest with yourself and everything will fall into place. Planning a party for 150 people can be difficult when your budget is telling you hotdogs for 25 guests. But after you have the numbers worked out, you can move on and focus on the fun parts of planning your party. With prioritisation and imagination, anything is possible. If you have a tight budget, determine what is most important to you – is it having certain people come to your party, the food or the venue? Guests always remember being thirsty, hungry, or bored, but you never can have enough of something good!
2. Get your invitations sent out early
Make sure they look incredible and don't just get them sent out to be an early bird. This will be the first time your guests know about your party, so you need to get them excited and wow them from the very start. If everything looks great – they will be there in roller skates and cancel whatever other dates they might have booked already in their diary.
3. Will guests want to bring gifts?
It may be that you don't want to your guests to bring gifts; the pleasure of their company being all that you desire. If that's the case, say so on your invitations. However, for some occasions, no amount of protestations will stop your lovely friends and family bringing gifts. For example, baby showers and christenings – who doesn't love to get a gift for the baby. We love baby silver cups which are traditional and can be a lifelong keepsake. If you would like certain things, for example you are getting married and need to furnish your marital home, then guests always appreciate a list.
4. The devil is in all of the details
Planning is absolutely critical, for both the success of your party and your own sanity. When you spend time working out the quantities of crockery, cutlery, drink, food, and more it will help to ensure that you don't need to rush out to Sainsbury's in the middle of your party.
Themed parties are some of the best, so consider places that inspire you, a favourite film, certain kinds of music or other things that you enjoy. It may be as crazy as having a graffiti party or as subtle as being based on your favourite colour – either way, you can weave your theme throughout all of the event's elements, starting with your invitations and continuing all the way through to your food and decor. If your budget allows for it, you can also enhance your theme by hiring entertainers, lighting and props.
5. Lights, camera, action!
A good party is a journey. It involves a succession of reveals that begin on the day that guests get their invitations, how they are greeted when they arrive at your party, the food and the drink, but it doesn't stop there.
If you plan to hire a DJ, don't mistakenly presume he knows what your tastes are or will be happy to play anything you request. Provide him with a sample playlist so you aren't surprised by the DJ having a strong preference for hard techno sounds!
Lighting plays a major role in getting the right ambience and atmosphere created for an event such as a party. Many possibilities are opened up by outdoor lighting, so try doing something different – to make an impressive entrance, hang crystal chandeliers on the trees. Use light props inside to add fun or glamour to your party – you don't need to be serious at all times.
6. Setting up and clearing down
If you have plenty of holiday time saved up at work that's great – you are definitely going to need it. Take a couple of days off before and after your party if possible since there will be lots to do. If you are making all of the arrangements on your own, don't underestimate the amount of time it will take to prepare the venue, waiting for deliveries and meeting marquee individuals.
The clear up isn't ever fun, as you will probably have a bit of a hangover and need to wash and return the glasses, as well as clear up all of the rubbish and carnage from your fabulous night. Be sure to get some good friends enlisted to help you with the mess. You can always pop a couple more corks to extend your party.