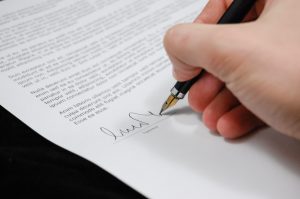 Despite the topic of death being rather taboo, it is important that our final intentions are clearly expressed. It is only through clear writing of a will that you can leave your estate to the ones you care for most. If you believe writing a will applies to people over the age of 65 and into retirement, then you are sorely mistaken. The truth is that there is no set age to broach the subject of death and will-writing. If in doubt, always remember that any valuable belongings you want protected and left to certain people will require a will.
Do I Really Need To Write A Will?
If you live with a partner, have children, own an estate or are a business owner, then it is recommended that you consider drafting a will. The will can help protect your loved ones by ensuring all issues, such as inheritance tax, are suitably taken care of.
Who Can Be Included In The Will?
A person can include anyone they want to include in a will ranging from relatives, nominated charities or your pets. The purpose of a will is to leave assets behind that will benefit the nominated individuals. If you possess any items of sentimental value or family heirlooms, it may be useful to outline who these should be passed to in the will.
How Can A Will Be Written?
Dependent on your personal requirements and financial circumstances, there are various methods to draft a will. The following methods can be used:
One method people use to draft a will is by contacting a probate expert, who can also define probate for you. This professional typically caters for all needs ranging from complex situations to simple estate dissolution. The fee of a probate expert will vary dependent on the exact requirements; however, the standard rate tends to begin at £780 including VAT.
Another option is to hire a specialist will-writing service. The rates for this service tend to range from £75 upwards excluding VAT.
The final professional will-writing option available is to use a template document. This is the simplest and most cost-effective alternative. Template documents for wills can be purchased online and in stationary stores for as little as £10.
Who Should Carry Out The Terms Of The Will?
While siblings, children and spouses are considered the obvious choices to carry out a person's intentions, it is advised that you consider an objective executor for your will. A third-party executor can help avoid any potential conflicts that could arise, particularly if sibling rivalry already exists. Hiring professional objective executors of a will can also assist to avoid pitfalls surrounding the probate procedure.
In addition to considering who should execute the will, particularly if there are children under the age of 18, then you may need to examine who you would like to become a legal guardian for the children if you pass away before they become "of age".
Where Should I Keep My Will?
It is advised that you store the will in a secure place and ensure the objective executor is aware of the location.
What Happens If I Do Not Write A Will?
In a case where a person dies before having compiled a final will and testament, there are several intestacy regulations that are automatically applied as you will be considered interstate. The regulations include some of the points discussed below:
Your children and spouses automatically receive all personal possessions along with a minimum of £250,000 of the estate.
If you do not have children, your spouse will inherit all personal possessions along with a minimum of £250,000 of the estate.
If you do not have a spouse but have a long-term partner, your partner will not automatically receive any possessions or estate regardless of whether or not you have children together.
If you do not have a long-term partner or spouse but do have children, all possessions and estate will be automatically passed on to them. The amounts will be divided equally between the children.
If you do not have any children, spouses or long-term partners, the estate and personal possessions will pass to siblings, nephews, nieces or parents.