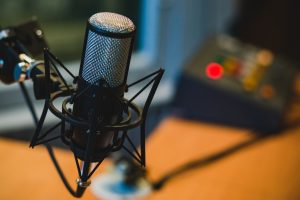 In order to create a unique podcast, you first need to identify the niche area that you will focus on. You should then find the most appropriate voice for your podcast and carefully research any message so that once it is broadcast, it oozes credibility. People usually tune in and out of podcasts but they can be persuaded to keep listening if the information given is useful and valuable. The chances of an audience listening to the end are higher if they think that the speaker is trustworthy.
You can also make a unique and interesting podcast by investing in production equipment that can record and produce high quality audio; commercial video production agencies are turning their hand to this newer medium as the skills and techniques are similar. Since people are setting time aside to listen to your message, you can avoid disappointing by offering a podcast with the best quality audio.
Do marketing gurus need to take advantage of the opportunities offered by podcasts through product placement and sponsorship?
Definitely! Podcasting is a relatively new and untapped form of communication that is becoming popular with consumers. Listeners are used to hearing messages from the sponsors of podcasts. Additionally, most consumers are aware that there are commercial podcasts.
As a firm, if you can connect with a podcaster who has a high following coupled with innate proficiency in communication and engagement, you can spread the brand message and reach consumers quickly. Using spoken words, you can delve into a topic more deeply and explore ideas in a manner that is different to written words. When customers hear a real voice, it has the power to attract and draw them in. Words that area spoken by a voice they can relate to can  be used to carry the intended brand message in a way that is more far compelling than other traditional forms of marketing.
Podcasts provide a great platform for engaging customers and building awareness in a brand.
As a B2C business how can you monetise podcasts so that they lead to a better performance in the profits of a business?
Monetising podcasts is very easy. You can do this by ensuring there is embedded content in the podcast and also creating a link to the production. At Wellness with Liz Earle, we have tried this with a lot of success. One example is a podcast where I hosted a GP who is also an expert on menopause issues, Dr Rebecca Lewis. The podcast episode in question was sponsored by Regelle.
Parallel to this, you can easily monitor the number of people who have joined your podcast to the very end and the number of downloads that have been made. Due to the ease in monitoring podcasts, you can easily understand the size of audience that has been reached by your message.
How can marketing experts align podcasts with other marketing activities such as social media? And how can they be integrated with other campaigns such as product launches?
Podcasts can be integrated very fluidly into social media campaigns because they can be easily shared and linked. It is very easy to link your podcasts to any available social media platforms. For example, you can choose to add QR codes to brochures, magazines or printed publications. In the magazine produced by Liz Earle, Wellbeing, we usually tend to put scan codes if there is any referenced information that can be found on the podcast. This way, if there is an individual reading the magazine who wishes to learn more, they can simply scan the code and listen to the podcast. Alternatively, they can also save the podcast and listen later. With podcasts, you can integrate brand messages across multimedia campaigns within a short time.
Since podcasts are viewed as a one-way medium of communication, how can producers engage and interact with their audiences?
Podcasts provide a great platform for content producers to interact with listeners. Some brands choose to sponsor podcasts while others invite interesting and unique guests to grace their podcasts. Sometimes brands offer to be a guest on another brand which is synergistic and which shares the same target audience.
I think that brands can take advantage of podcasts to get their message to audiences in a compelling manner. This is because podcasts are relatively new and unknown. By affiliating with a growing podcaster, there is a chance to form relationships that are bound to grow. A budding podcaster can be a very big influencer  in the long run.
I strongly believe that right now is the perfect time to be turning to be podcasting. It is also the right the right time to be integrating it in future marketing plans to be used in the year 2019 and beyond.