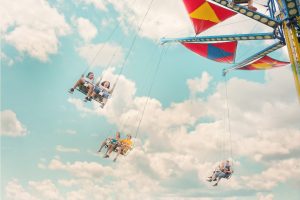 You are probably seeking to have some fun and exciting days in the South West during this summer period. If you find yourself searching up daytrips near me, I've got you covered! Regardless of whether your kids are upcoming historians, farmers or nature enthusiasts, you will no doubt find something that you will enjoy doing in the list below. Enjoy your summer holidays, won't you?
Adventure Wonderland – Located in Christchurch, Dorset
If you are a person who loves thrills in small doses, Adventure Wonderland is the place for you! This place is designed for kids who are aged between 3 and 10 years. The theme park has a lot of interesting and exciting rides for kids such as the helta-skelter slide, Runaway Train, Ghostly Galleon, Flying Elephants and Yoyo Swings. To enjoy the thrills of this theme park, book your tickets on Picniq and get a 20% discount.
The Museum of Witchcraft – Located in Boscastle, Cornwall
This is a museum that acts as home to a large collection of witchcraft regalia and artefacts. If you are interested in the spooky, you can visit this museum to enjoy stories on witchcraft and magic and also learn histories. After a thrilling day in the museum, you can visit the café located on-site to enjoy delicious meals, bites and beverages.
The Eden Project – Located in Par, Cornwall
The Eden Project contains two conservatories located in a crater that is 50 metres deep. A visit to this place would be a dream come true for nature conservationists and gardening enthusiasts. This place is home to the Warm Temperate Biome and the Humid Tropics Biome. On visiting this place, you can expect to see stunning flora and the largest rainforest. You will also find Dinosaur Uprising in these conservatories. Here you can have an enjoyable time trying to see how many dinosaurs you can find in this place and take part in a 'dig'. If you find any, you can get stamp memorabilia. Additionally, there is also a dinosaur expert on site.
Longleat Safari Park – Located in Warminster, Wiltshire
In this park, you can find many exciting attractions such as the Penguin Bay, Jungle Kingdom and Longleat House Adventure Park. Did you know there is also a Safari Drive Adventure? Here, you can expect to see deer, majestic and proud lions, the fastest animal; the cheetah, rhinos and monkeys.
This park covers an entire 19 acres. Within its grounds, there are the latest exhibits, gardens and sculptures that you can climb on. For kids who are creative, the arts and craft exhibitions and activities are sure to be an awe to behold. There is also a playground with amazing funnel slides and plenty of other fun innovations to play on!
The Farmer Palmer's Farm Park – Located in Poole, Dorset
If your kid is a farming enthusiast, this is the place to visit. There are many activities for kids whether indoors or outdoors. Examples of these fun playing areas include bouncy castles and the maize maze, which is open from July to October. There are also many cute and friendly animals throughout the farm. On visiting this place, you can also take a stroll among the woods and enjoy the beautiful scenery.
The Clip 'n' Climb – Located in Exeter, Devon
If your kids love adventure, this is one location to visit! There is a Jungle Gym, chequer plate and a speed climbing challenge. For kids looking to show their climbing skills, there is the Skyscraper where visitors are invited to try reaching new climbing heights. Taking your kids to this place can help them improve their confidence. Did I mention, it also does wonders when it comes to team building?
The Gloucester Ski & Snowboard Centre – Located in Gloucester, Gloucestershire
This is an indoor sports centre that is ideal for youngsters who love adventure. It has a slope that is 230 metres but for the inexperienced, there is a nursery slope. There is a smaller snow flex area for kids and the Big Airbag where pros can practice freestyle snowboarding and skating manoeuvres.
The Winchester Science Centre – Located in Winchester Hampshire
This is a fascinating and exciting science museum designed to indulge the pleasures of budding scientists. Within, there are over 100 hand-made scientific exhibits to be discovered. You can also expect to find an amazing and engaging planetarium with space and other science shows. How good would it be to travel through the stars? This summer, the centre has several events planned including Dinosaurs at Dusk, The Summer Sound and many more. Book a visit to ensure that you are not left out of the amazing experience!